The Requirements
To be a good fit for this opportunity you will have:
An associate's degree in Business; bachelor's degree preferred.
Experience with PeopleSoft 8.8 or higher, including Ben Admin and Base Benefits.
Knowledge of regulations related to benefit administration including FMLA, Cobra, Disability and Workers Compensation.
The ability to act as a subject matter expert in benefit operations, with knowledge of benefit plan rules and proficiency in recording benefit events in the PeopleSoft system.
The ability to collaborate with managers and associates to facilitate benefit related communications.
Proficiency in reconciling Benefit reports and troubleshooting benefit issues with vendors. Quick question for you - click here
Experience facilitating open enrollment activities and supporting open enrollment process.
Expertise in developing SOPs that outline successful operation transactions.
The ability to provide meaningful metrics for performance measurement.
Proficiency in Microsoft Office applications including Word, PowerPoint and Excel.
The ability to be self-motivated and self-managed, with the skill to identify problems and seek solutions using experience, knowledge, contacts, web tools and documentation.
Proven success working in a collaborative environment, both as a member of a team and individually as needed.
Strong written and verbal communication skills.
Demonstrated ability to simultaneously handle a large and diverse number of tasks and issues, and to meet deadlines.
Strong organizational and problem solving skills, with the ability to work in a dynamic environment.
Expertise in utilizing system tools to meet business requirements.
The ability to be discreet, and to handle all information in a highly confidential manner.
Position requires on site presence with some flexibility in working remotely when necessary.
This position requires limited travel, including occasional air travel with overnight stay.
The Role
This new role has been created as part of a necessary infrastructure growth to support the exponential growth of ACSI. Reporting to the Benefit Service Manager in the Human Resources department, you will be responsible for tasks associated with administration of employee benefit plans, open enrollment, and providing benefit support and problem resolution for our employee population. You will be the expert on employee benefit offerings and have strong relationships with providers.
Quick question for you - click here

This is a very functional role, where you will find yourself completing benefits administration and health and welfare transactions. You'll need to understand eligibility to keep track of the complex benefit offerings available at different business units in order to ensure the correct benefits are administered for the correct employee groups.
In addition to the tasks outlined above, some of your specific responsibilities will include:
Administering benefits programs including medical, dental, life insurance, short term and long-term disability, COBRA, Health Savings accounts, and Commuter programs.
Processing daily requests and changes for all benefit related actions, and interfacing with HR counterparts on leave and employment status changes.
Supporting benefits new hire enrollment, open enrollment, COBRA actions, retiree benefit plans and administration for all benefit programs, as well as paid and unpaid leaves of absences.
Acting as functional lead for Open Enrollment working closely with the Senior HR/ Benefit Manager.
Evaluating new benefit offerings or revised existing benefit offerings to determine impact on Benefit system transaction input and reporting.
Preparing employee educational and communication documents for review by ACSI Communication team.
Preparing benefits related information updates to Web Portal as needed.
Serving as contact person for questions and resolution of issues from employees regarding benefits enrollment or coverage.
Working with benefit providers to address questions and resolve issues with the administration of employee benefits.
Collaborating with Payroll Administration and HR Administration teams on benefits related issues.
Preparing benefits communications and information for employees (specifically new hires, newly eligible employees and employees on paid/ unpaid leave) under the direction of the Sr. HR/Benefit Manager.
Entering benefits related data into PeopleSoft.
Conducting benefits orientation for new hires and transfers.
Reviewing current processes and practices, making and implementing recommendations for improvement of processes related to benefits administration.
Providing information for the monthly benefit audit.
Participating in providing information for year-end reporting and processes for all benefits programs.
Maintaining forms and internal notifications for employee benefit events.
Reviewing, developing, revising, optimizing and standardizing benefit transactional processes and procedures to ensure efficient and cost effective service.
Continually improving department practice by use of standard practices, check lists, automation and front end process review and improvement.
Note: this description is intended to give you a general overview of the position and is not an exhaustive listing of duties and responsibilities.
Why ACSI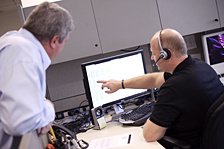 Professional development
-- as a subject matter expert in employee benefit offerings, you'll play a key role in the department. As the company grows, you'll have opportunities to stretch and grow professionally, and since we prefer to promote from within, if you perform well you'll be in a great position to create a career path with ACSI.
Make an impact
-- you can use your wealth of experience to help forge a way for our fast-moving organization to create the systems and processes needed to support this quickly growing business. You'll be supporting employees across the enterprise, rather than being siloed in one particular area. You will be able to touch and influence many aspects of the business, creating a very interesting role for the right candidate.
Strong foundation, entrepreneurial spirit
-- ACSI is an established Shared Services Center with a proven track record of delivering cost saving solutions to our newspaper customers. We offer an entrepreneurial environment that fosters innovative thinking and creative solutions, and we are looking for the right fit to join our exceptional team.
Excellent compensation
-- in addition to a competitive salary we offer comprehensive benefits including medical, prescription drug, and dental benefits, a 401(k) plan, life insurance and disability plans, and pre-tax flexible spending and commuter accounts.
Pictured: ACSI develops, enhances, maintains, and provides user support for enterprise-wide applications including PeopleSoft Enterprise Applications.
Keys to Success
This role includes a high volume of transactional work, with non-stop busy days, and a lot of variety. To excel in this role, you will need to be able to multi-task, completing many types of tasks each day including hands-on work, answering the phone, and meeting with employees to review benefit offerings.

This is a fast-paced environment, so you'll need to be innovative and flexible enough to roll with change, and to jump right in as new projects come up. If you have the knowledge we are looking for, and you are a results-oriented, self-reliant, independent thinker, able to solve problems on your own and to work autonomously, then we'd love to hear from you!
About ACSI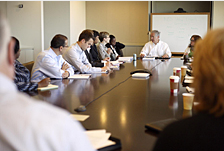 Advance Central Services, Inc. (ACSI) is an established Shared Services Center that offers ways to improve business operations and technological capabilities so that newspapers are competitive in their markets. ACSI is a subsidiary of Advance Publications, Inc., a privately held communications company. Advance Publications, Inc., directly or through subsidiaries, also owns Condé Nast Publications, Parade Publications, Fairchild Publications, American City Business Journals, the Golf Digest Companies and newspapers in more than twenty-five American cities; Advance Publications' subsidiaries also have extensive interests in cable television, as well as in Internet sites related to its print publications.
The Company is an Equal Opportunity Employer and does not discriminate on the basis of race, color, religion, gender, national origin, age, physical or mental impairment, or any other category protected under federal, state or local law.
Pictured: ACSI offers an entrepreneurial environment that fosters innovative thinking and creative solutions.