The Requirements
To be a good fit for this opportunity you will have:
A bachelor's degree in a related field; advanced degree preferred.
5+ years in a management role in a technical/accounting environment. Quick question for you - click here
5+ years of PeopleSoft Development experience.
Demonstrated knowledge of and experience with PeopleSoft 8.8 or higher: General Ledger (required), Accounts Payable (required), Time and Expense, Purchasing, Asset Management and Budgeting; experience configuring, creating design documents and testing in the majority of the listed modules preferred.
Solid PeopleSoft functional and technical skills especially in AP, G/L, COA and PeopleSoft NVision Reporting.
Experience with the following tools and technologies: Application Designer, process scheduler, PeopleCode, SQR, PS Query, Application Messaging, Crystal Reports, Application Engine, SQL + or similar DB access tools; experience with Oracle 10g or higher and PeopleTools 8.50 or higher preferred.
Exposure to multiple projects (full life cycle implementation/upgrade), effective application and technical application support, working within integrated consulting and client teams.
The ability to show a high degree of initiative, to adapt to changing organizational and operational needs, and to continuously meet deadlines.
Strong organization skill, prioritization, and attention to detail, with the ability to handle multiple tasks simultaneously within a flexible work environment.
Strong skill as a team player with the ability to work across multiple functions and disciplines.
Preferred but not required:
Experience with the following: PeopleSoft 9.1, Hyperion, Livelink, Kofax and Trecs; workflow/document management software a plus.
The Role
Reporting to the Executive Director of the IS&T department, the Financial Applications Development Manager will have a number of roles to fulfill. First, you will be responsible for oversight of day-to-day operations activities on financials systems, where we have many applications including Accounts Payable, and General Ledger. Second, you will participate in and/or lead integrated projects with the HR organization and external partners, and work with technical administrators who handle our systems, including infrastructure, databases, and operating systems. Third, you will work on projects both large and small, evaluating scope, recommending approaches, timelines, and development needs, and rolling up your sleeves to do some development work as needed.
In addition to the activities outlined above, some of your specific responsibilities will be to:
Develop and maintain strong relationships with internal and external stakeholders.
Develop and manage overall PeopleSoft Financial and Management Reporting and accounts payable workflow using OpenText's Livelink document management solution. Quick question for you - click here
Lead/assist with implementations, Application and tools upgrades, application of PS patches, fixes, bundles, and 1099 updates, production troubleshooting and issue resolution.
Lead/Assist with the Development of PeopleSoft system, including the customization and creation of PeopleSoft reports, application objects, workflow, queries, interface and conversion programs.
Modify and maintain PeopleSoft Accounts Payable and General system, and recommend application changes to enhancements and security.
Modify and maintain COA, reporting structure, validation rules and accounting processes.
Ability to support AP pay cycles and GL closes.
Design and implement Batch Interface Architecture.
Note: this description is intended to give you a general overview of the position and is not an exhaustive listing of duties and responsibilities.
Why ACSI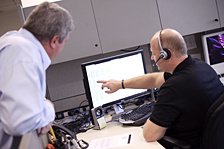 Professional development
-- there are many business processes that you'll be involved in; you'll be a key resource on the financial systems side, be involved in creating solutions from a technology standpoint, and will have the challenge of designing, building, and nurturing a sustainable system. All of this will stretch you and help you grow professionally, creating a very interesting role for the right candidate.
Make an impact
-- you can use the wealth of your experience to help forge a way for our fast-moving organization to move forward into a new, multimedia space. You'll be supporting an enterprise-wide system, giving you high impact with ownership across the entire scope of projects rather than being siloed in one particular area.
Strong foundation, entrepreneurial spirit
-- ACSI is an established Shared Services Center with a proven track record of delivering cost saving solutions to our newspaper customers. We offer an entrepreneurial environment that fosters innovative thinking and creative solutions, and we are looking for the right fit to join our exceptional team.
Excellent compensation
-- in addition to a competitive salary we offer comprehensive benefits including medical, prescription drug, and dental benefits, a 401(k) plan, life insurance and disability plans, and pre-tax flexible spending and commuter accounts.
Pictured: ACSI develops, enhances and maintains enterprise-wide applications including PeopleSoft Enterprise Applications, and provides user support.
Keys to Success
To excel in this role, you will need to have worked with PeopleSoft over enough time to have a strong understanding of the technology including understanding of the functional aspects of modules including AP and GL. You'll have experience in leading PeopleSoft projects, and the leadership skill to help drive the implementation of additional modules, including an immediate PeopleSoft Financials upgrade.

You'll need to be a team player, able to be a strong contributor to collaborative initiatives, and work well with the business and the technology. You will be called on to deliver results, sometimes through managing a team and other times through rolling up your sleeves and doing the work yourself. If you are a high-level performer with leadership skill and management experience, able to work autonomously, with an entrepreneurial spirit, and you want to become a part of our team and grow with our organization, then this might be the right role for you.
About ACSI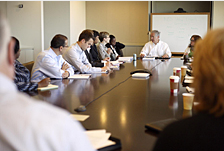 Advance Central Services, Inc. (ACSI) is an established Shared Services Center that offers ways to improve business operations and technological capabilities so that newspapers are competitive in their markets. ACSI is a subsidiary of Advance Publications, Inc., a privately held communications company. Advance Publications, Inc., directly or through subsidiaries, also owns Condé Nast Publications, Parade Publications, Fairchild Publications, American City Business Journals, the Golf Digest Companies and newspapers in more than twenty-five American cities; Advance Publications' subsidiaries also have extensive interests in cable television, as well as in Internet sites related to its print publications.
ACSI is an Equal Opportunity Employer and does not discriminate on the basis of race, color, religion, gender, national origin, age, physical or mental impairment, or any other category protected under federal, state or local law.
Pictured: ACSI offers an entrepreneurial environment that fosters innovative thinking and creative solutions.